THE CONCEPT
Send us your favourite jeans and we'll add safe Kevlar® fabric, breathable lining and, if you like, armour.
FED UP WITH 'TOO TIGHT', 'TOO LONG', 'TOO SHORT', TOO 'NOT MY STYLE'?
You can get tons of motorcycle trousers off the shelf. But truth be told: Did you ever find some that fit and are just as comfortable as your favourite jeans? Congratulations if you did! If you didn't: Send us your favourite jeans and we'll turn them into safe motorcycle trousers.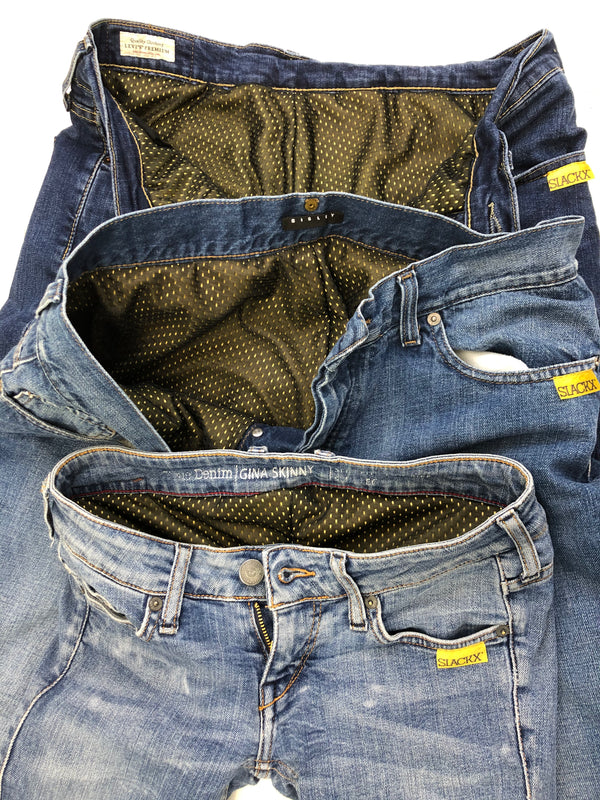 YOUR JEANS

That favourite pair of jeans you have in your cupboard will be turned into motorcycle trousers. Yes, really! Practically any pair of trousers can become a SLACKX®. Abrasion resistant Kevlar® fabric and armour turn your favourite jeans into safe motorcycle trousers. Machine washable and comfortable.

ABRASION RESISTENT KEVLAR® FABRIC

High-quality DuPont® Kevlar® fabric in a cotton blend protects you from skin abrasions and burns if you fall. It will be sewn into your jeans from your hips to your shins on the front and down to your knees on the back.

MESH FABRIC ® LINING

The light and soft lining makes for a comfortable wear. It's breathable and dries fast, so moisture can be transported easily.

OPTIONAL: ARMOUR

You decide whether your SLACKX® will be equipped with armour or not: Four on hips and knees will provide impact protection if you fall. They meet DIN EN-1621 (Type B) standard. You can simply take them out of the sewn-in armour pockets for washing.
WE HAVE A SLACKX®!
Finally motorcycle trousers that fit perfectly. At first, I was sceptical, but Slackx's quality and service has really convinced me!
Awesome! Great workmanship and back in a breeze. The trousers really kept up to the promise.
What a terrific idea! And mighty fine implementation! The result - my biker jeans!
At last motorcycle jeans that fit me and fit my style!
The results are great. The jeans really look and fit like before. Bring on summer!
With them jeans I'll even drive to a wedding and to the party at night. Thank you, Slackx!
YOU'RE ONLY THREE STEPS AWAY FROM YOUR OWN SLACKX®